Want to experience Jaco through the eyes of a local? Well it's time to hit the play button now. A getaway to Jaco, a buzzing town in Costa Rica offers unforgettable adventures ranging from rainforests, beautiful beaches, unique wildlife to authentic food and culture that you definitely don't want to miss out on!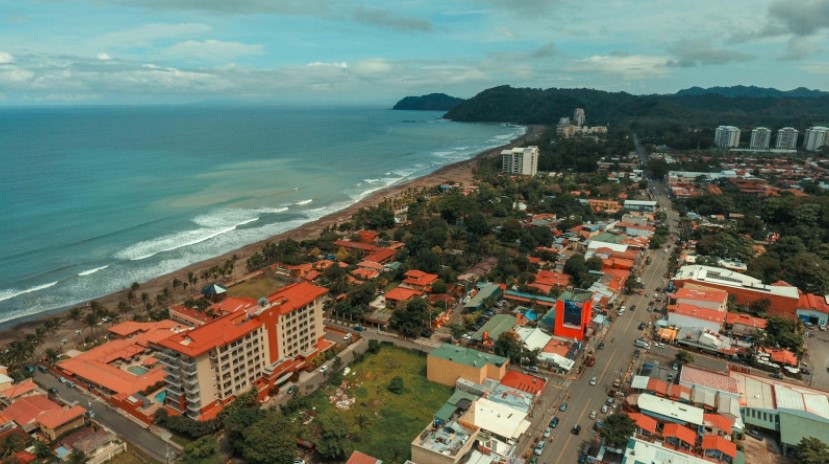 Costa Rica's Booming Beach Town
A fantastic vacation destination for adventurous souls, Jaco is packed with all the convenience but still small enough to explore on foot. Being a well-developed town, this picturesque town has got a perfect mix of laid-back, beachy charm and a thriving social hub. 
Book your tickets right away to have the time of your life by unleashing yourself at Jaco's  party monster reputation and enjoying Costa Rica's most premier surfing destination!
Covered with sunshine and sandy toes, one of the main draws of Jaco is the endless array of activities, trips and tours to explore from. Everything from ATV, zip-line tours, surf lessons, scuba diving and trekking can be booked by us at Jaco Royale for seamless reservations.
Discover stunning local art 
Standing strong with a rich artistic history, creativity has definitely flourished over time with a promising new generation of artists to boot in Costa Rica. The street art scene in Jaco is widely popular among tourists. City Walk in San Jose is another wonderful way to wander around, appreciate and soak in the artistic heritage without feeling lost.
We have picked a few of our favourites to make sure you visit some of the top art galleries in Jaco. Let's start with Tico Pod Art House & Gifts, it is indeed an art collector's happy place that houses unique hand-picked pieces of art ranging from intricate wood carvings to handmade soaps. Coming right up next is Zukia Art Gallery, the go-to stop to bring home authentic jewellery art, sculptures and paintings curated by the most famous Costa Rican artists. For exquisite art and precious souvenirs, head to Bambu as this spot cannot be missed!
Enjoy Jaco in its truest form by hopping on to a bike tour, with wind ruffling through your hair. An experience like no other, explore and witness everyday life, from the hustle-bustle of  downtown to the open air gallery. We, at Jaco Royale, aim to curate the finest itinerary only for you to relax and rejuvenate in an oasis of calm at our comfy villa's, even after a long day of sightseeing around Jaco. 
And and and, "when in Jaco, do as the locals do".
Witness nature at its very best
After staying indoors and within the comforts of your walls for more than a year, are you ready to finally immerse yourself in the outdoors?  Are you excited to reconnect with mother nature? Look no further, this is the place for you.
An exotic adventure worth checking out, go for a ride on the heart pounding rainforest aerial trams. If you thought Disney rides were fun, you definitely must experience the aerial trams for a panoramic view of the stunning Costa Rican flora and fauna. Away from the beaches, head to Carara National Park the perfect hiking destination for bird watching specially the most celebrated Scarlet Macaw and many other species In addition to this, they also have a universal access trail for the handicappped.
Tarcoles is the ultimate home for the most amazing crocodile shows, leaving you with a thrilling experience. On your visit, take the interactive tour at Neo Fauna, a wildlife centre to learn how they provide shelter and rehabilitate injured animals. A 2.5 mile hike to Nauyaca Waterfalls  is worth every step to see this breathtaking beauty with your own eyes, and take back memories to cherish for a lifetime.
Nature travel offers the thrill of discovering something new each time. Feel the delight of taking in scenic views from a crisp mountaintop at Manuel Antonio while a rare squirrel monkey silently wanders above, or the excitement of snorkelling at an untouched coral reef. This town has got something for all, be it couples, avid travelers, families and anyone looking to experience a little of Costa Rican Pura Vida. Now what more could one ask from a dream vacation?
Related Posts