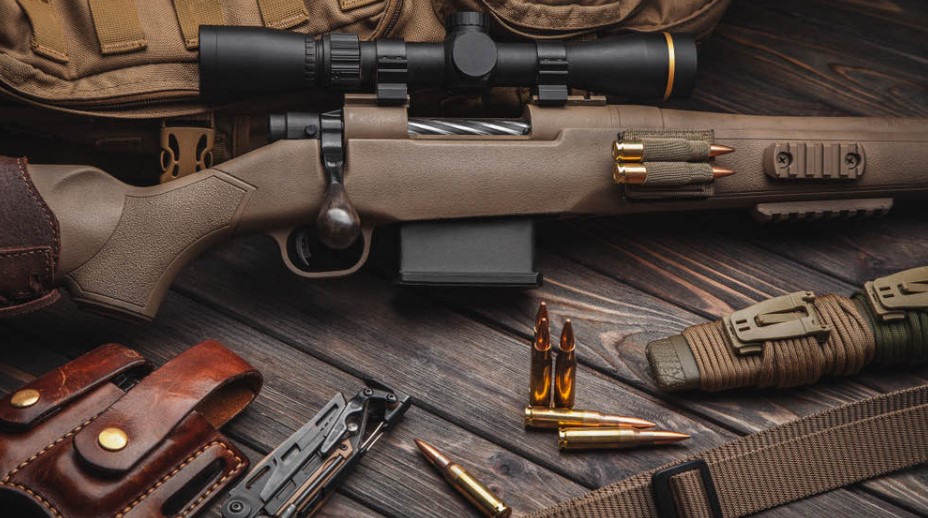 When venturing into the wilderness, preparedness is key to ensuring a safe and successful adventure. While the primary goal should be to avoid conflict with wildlife and maintain a peaceful coexistence with nature, having the right tools for self-defense can provide a sense of security and can be essential in critical situations. Here, we will discuss the top three essential weapons for wilderness survival, emphasizing responsible usage and respect for the environment.
1. Fixed-Blade Survival Knife:
A quality fixed-blade survival knife is arguably the most versatile and indispensable weapon for wilderness survival. Unlike folding knives, a fixed-blade knife offers sturdiness and reliability, making it ideal for various tasks such as:
Cutting and Chopping:

From building shelter and preparing firewood to processing food, a sharp blade will save time and energy.

Self-Defense:

In rare cases of encountering aggressive wildlife or emergency situations involving hostile humans, a survival knife can serve as a last-resort tool for defense.
When choosing a survival knife, consider the following characteristics:
Blade Material:

Look for a strong, corrosion-resistant steel such as stainless steel or high-carbon steel.

Blade Length:

A blade length between 4 to 6 inches strikes a balance between utility and manageability.

Full Tang Construction:

The blade should extend through the handle for maximum strength.

Ergonomics:

Opt for a comfortable grip to minimize hand fatigue during extended use.
2. Takedown Bow:
A takedown bow is a lightweight and compact weapon that can provide both hunting capabilities and self-defense in the wilderness. Unlike firearms, a bow offers several advantages:
Stealth and Silence:

A bow allows you to maintain a low profile while hunting, without alarming other wildlife or potential threats.

Ammunition Availability:

Arrows can be crafted from natural materials found in the wild, ensuring a renewable source of ammunition.

Long-Term Viability:

Bows do not rely on bullets or gunpowder, making them sustainable for extended periods in the wilderness.
To choose the right takedown bow:
Draw Weight:

Select a draw weight suitable for your physical strength and experience level, typically ranging from 30 to 50 pounds.

Portability:

Opt for a takedown bow that can be disassembled for easy carrying and transport.

Durability:

Look for bows made from sturdy materials like fiberglass or carbon fiber.

Practicing Skill:

Proficiency with a bow requires regular practice, so spend time honing your archery skills before heading into the wilderness.
3. Bear Spray:
While the primary goal in the wilderness is to avoid confrontations with dangerous animals, sometimes encounters are inevitable. Bear spray is a non-lethal deterrent designed to deter aggressive wildlife, such as bears and cougars, without causing permanent harm. It is highly effective due to the following reasons:
Safety:

Bear spray provides a safer alternative to firearms for deterring wildlife threats. It allows you to maintain a safe distance while warding off potential attackers.

Environmentally Friendly:

Bear spray is designed to minimize its impact on the environment, making it a responsible choice for wilderness enthusiasts.

Ease of Use:

In high-stress situations, bear spray is easier to deploy accurately than a firearm, reducing the risk of mishaps.
When carrying bear spray:
Familiarize Yourself:

Understand the proper usage and limitations of bear spray by reading the instructions and practicing deployment.

Accessibility:

Keep the bear spray in a holster or pouch attached to your belt or backpack, ensuring it is easily accessible in an emergency.
Conclusion:
Surviving in the wilderness requires a combination of skills, knowledge, and the right tools. The top three essential weapons for wilderness survival – a fixed-blade survival knife, a takedown bow, and bear spray – are valuable assets that can aid in various situations, from food procurement to self-defense against potential threats. You can also carry firearm like gun with 12 gauge ammo to enhance security in wildlife. Always remember to respect the environment and wildlife, utilizing these tools responsibly and only when absolutely necessary. Preparedness and mindfulness will go a long way in ensuring a safe and enjoyable wilderness experience.
Related Posts